Meet our Administrative Support/ Social Media Manager Kristen Dorion!
Kristen is a dynamic individual driven by her love for working with and assisting people in various capacities. With a knack for organization and efficiency, Kristen has amassed over five years of experience in administrative environments, where her skills have proven invaluable. She proudly holds an Advanced Business diploma from Georgian College and previously served as an Executive Admin for a thriving manufacturing company.
Notably, Kristen possesses extensive expertise in managing diverse social media platforms and utilizing them as powerful tools for business growth. Her ability to create awareness, generate excitement, and cultivate an authentic online presence has made her a valuable asset in the digital realm. This passion extends beyond her professional pursuits, as Kristen also operates her own business as a Life Coach and Quantum Healer, helping individuals achieve their highest potential.
Since 2021, Kristen has had the privilege of collaborating with Milynne and Chef Winston, becoming an integral part of their exceptional team. Working alongside such genuine and fantastic individuals has been an absolute joy for Kristen. She values the strong sense of family that permeates Chez Michel and is thrilled about the opportunity to grow and evolve together with the Chez Michel Family.
With her multifaceted skill set, unwavering passion for assisting others, and dedication to personal and professional growth, Kristen is committed to making a positive impact in the lives of those she encounters. Whether it's organizing, supporting through coaching, or leveraging the power of social media, Kristen continually strives to bring her best to every endeavor, leaving a lasting impression on the Chez Michel community and beyond.
Meet Karen Greaves!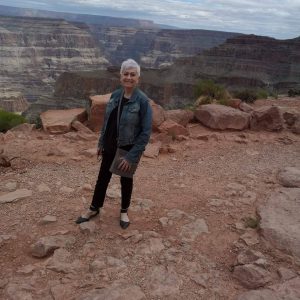 Karen Greaves is a seasoned hospitality worker, recognized not only for her extensive experience but also for her distinctive silver hair. Her career in the industry took off in 1990 at Burlington Golf and Country Club, where she dedicated 13 years to various roles, including fine dining, restaurant service, banquets, wedding coordination, and bartending.
In a surprising turn of events, Karen transitioned to the automotive sales field in 2003, joining the renowned Saturn brand. Relocating to Angus, Ontario, for personal reasons, she continued her successful career in car sales, eventually finding a home at Mercedes Benz Barrie. However, fate had other plans for Karen, leading her to Chez Michel, where she became Milynne and Chef Winston's very first employee.
At Chez Michel, Karen excels as the go-to martini and cocktail expert, skillfully crafting intricate and delightful drinks for patrons. She takes immense pleasure in daily interactions with the restaurant's customers, considering them the absolute best. Proudly serving Chef Winston's beautiful, fresh, and consistently delicious cuisine, Karen finds great joy in working in a positive, employee-friendly environment that feels like family. She wholeheartedly embraces her role at Chez Michel and envisions retiring from this cherished position.
Looking forward, Karen eagerly anticipates continuing to serve outstanding food in the restaurant's charming and intimate setting. She attributes the welcoming atmosphere, fostered by Milynne and Winston, as a key factor in her deep satisfaction and unwavering commitment to her work. With her expertise, warm personality, and passion for hospitality, Karen Greaves is an invaluable asset to the Chez Michel team, ensuring that every guest has an exceptional dining experience.
Meet Patricia Griffith – Food Service Expert 
Patricia is a seasoned professional in the food service industry, with a career that spans over four decades. Her passion for the culinary arts began in 1980 when she embarked on her journey in quick-serve establishments. Thriving in a fast-paced environment, Patricia quickly rose through the ranks, spending several years as a General Manager and Multi-Unit Manager in various quick-serve restaurants.
Recognizing the importance of continued education, Patricia enrolled in the prestigious Food and Beverage Management program at George Brown in 1985. Her dedication and commitment paid off when she graduated with Honours in 1988, equipped with a wealth of knowledge and a strong foundation in management principles.
Eager to explore new horizons, Patricia transitioned to the world of Casual Dining later that same year. She seamlessly adapted to the dynamic setting and thrived as a General Manager, Multi-Unit Manager, and Director of Training. Her expertise and leadership in the Casual Dining industry were highly regarded, and he played an instrumental role in shaping the success of various establishments until the early 2000s.
In pursuit of her entrepreneurial dreams, Patricia took a leap of faith and operated her own 150-seat restaurant for 11 years. The experience allowed her to showcase her creativity, management acumen, and passion for delivering exceptional dining experiences.
After a successful run as a restaurant owner, Patricia made the decision to semi-retire from the industry, seeking a better balance between her personal life and professional pursuits. During the phase, she devoted valuable time to her family and explored her love for travel, broadening her horizons and gaining new inspiration along the way.
In July 2021, a new chapter in Patricia's illustrious career began when she joined the esteemed team at Chez Michel. As a valued member of the organization, she brings a wealth of knowledge, experience, and a deep-rooted passion for the culinary world. With her unwavering dedication, expertise in food service operations, and commitment to excellence, Patricia continues to make significant contributions to Chez Michel, ensuring memorable dining experiences for their valued clientele.