Meet our Event Coordinator Katy Erent!
Katy is passionate about and committed to helping people. Nothing brings her greater joy than assisting to facilitate fun and memorable moments. Her enthusiasm for event planning started in 2008 with her career at The Metro Toronto Convention Centre. She was a part of the team who coordinated The Auto Show, G20, The Women's Show, The Wedding Show and the list goes on.
Katy graduated with honors in Tourism and Hospitality and has worked in the industry for over 15 years. She has worked alongside Chef Winston and Milynne since 2020, with a maternity leave in between there and is very excited to be a part of this extraordinary team to help you with executing the details of your next wonderful event!
Meet our Administrative Support/ Social Media Manager Kristen Dorion!
Kristen is multi-passionate, she loves working with and helping people in a variety of areas. Highly skilled in keeping things organized and efficient, Kristen has worked in administrative environments for over 5 years. She graduated Georgian College with an Advanced Business diploma and was an Executive Admin for a growing manufacturing company.
Kristen has extensive experience running different social media outlets and using social media as a tool for business to spread awareness, excitement and build an authentic presence. Her passion extends to her own business as a Life Coach and Quantum Healer.
Kristen has worked with Milynne and Chef Winston since 2021 and absolutely enjoys working with such a genuine and fantastic team. Kristen loves the family feel and is excited to grow alongside the Chez Michel Family.
Meet Cynthia Ronholm!
Cynthia Ronholm started her career in Hotel Restaurant Management at the age of 17, in Whitney Ontario. She began her career serving, bartending, Maître D, cleaning, and much more at Bear Trail Inn and continued to hone her skills for a number of years. In 2013 she graduated from the Personal Support Program, worked in Community Care as well as Long Term Homes. Cynthia is still a PSW, and wears her badge proudly! Summer of 2020 Cynthia moved to Maxwell, ON and was employed by Milynne and Chef Winston at Chez Michel. Cynthia is the Lunch Service Supervisor, who will be happy to serve you, with a delicious fresh French lunch, a glass of red or white wine and will make your visit with us as memorable as possible!!
Meet Karen Greaves!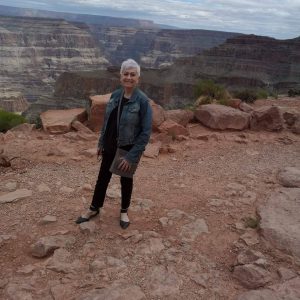 Karen Greaves is a seasoned hospitality worker, hence the silver hair. Beginning her career in 1990 at Burlington Golf and Country Club, where she worked fine dining, restaurant, banquets, wedding and bartending for 13 years. She began working in automotive sales working for Saturn (remember them?) in 2003 and relocated to Angus Ontario for love. Continuing car sales with Mercedes Benz Barrie for a number of years, until finally finding a home at Chez Michel. She became Milynne and Chef Winston's first employee. Karen is your go to martini and cocktail gal. She knows how to make all kinds of intricate drinks.
Karen loves her daily interaction with Chez Michel customers; they are by far the best! Karen says she is proud to serve Winston's food, it's beautiful, fresh and always delicious. It's a pleasure to work in such a positive, employee friendly environment that feels like family. Karen says this is the job she will retire from. Until then she looks forward to serving great food in a beautiful quaint setting in a great environment fostered by Milynne and Winston.